CENTRAL RIO FC & DUNIPACE JUNIORS FC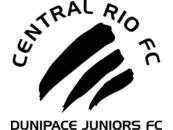 CENTRAL RIO FC & DUNIPACE JUNIORS FC
AB OVO
CENTRAL RIO FC & DUNIPACE JUNIORS FC
We have teams for boys and girls from Primary 1 right through to Third Year at High School and more are being created every year.
The original Central Rio FC was founded in 1995 and has been operating in some form or other ever since.
It was based on the Futebol de Salao ethos which came from Brazil, hence the original name!
It has been reinvigorated in recent years and has negotiated a partnership with Falkirk Ladies FC and Dunipace Juniors FC. In fact, once our teams begin competitive football they change their name to Dunipace Juniors FC to highlight this change in emphasis.
All our teams are members of Forth Valley Football Development Association. This has a long history of encouraging players and teams to play and teach football to the benefit to the players development. The club was a founding member!
All our teams train at Denny High School but play on Saturday mornings at venues across the region.
All our teams are registered with the SFA, SYFA and FVFDA. Our coaches are all volunteers and are qualified through the SFA and have either Disclosure or PVG clearance.
We have a management committee of five and all age groups are represented at club meetings. Most coaches and office bearers are parents of players and we have plenty of other roles that need filling if you have a few spare hours per week. This can vary from section treasurer to communication officer to coach to chairperson. If you want to help out approach one of the coaches and let them know.
Follow the site to get the latest news and results straight to your email
Weather

12 MPH W
62% humidity
Mon

13°C
6°C
Tue

12°C
6°C
Wed

15°C
13°C
Thu

14°C
7°C
Calendar
| Mon | Tue | Wed | Thu | Fri | Sat | Sun |
| --- | --- | --- | --- | --- | --- | --- |
| | | | | | 1 | 2 |
| 3 | 4 | 5 | 6 | 7 | 8 | 9 |
| 10 | 11 | 12 | 13 | 14 | 15 | 16 |
| 17 | 18 | 19 | 20 | 21 | 22 | 23 |
| 24 | 25 | 26 | 27 | 28 | 29 | 30 |